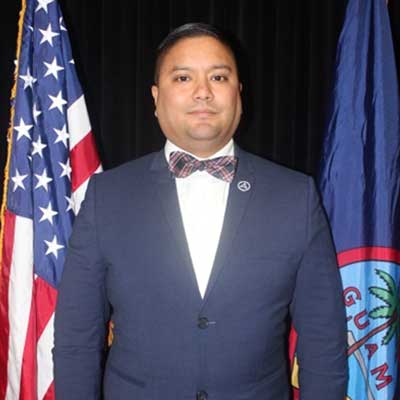 Charles V. Esteves was appointed as the Administrator for the Office of Civil Defense by Governor Calvo on July 2, 2015 and subsequently entered classified service in the same position in 2017. As the Administrator, Esteves is responsible for coordinating the activities of all organizations as it relates to the protection of Guam and its people from disasters, natural and manmade, and during emergency events.
Esteves is dual-hatted as the Director of the nation's 78th Fusion Center, Mariana Regional Fusion Center (MRFC). As the director for the MRFC, he is overall responsible for the operational control of all MRFC activities and operates under the direct oversight of the Guam Homeland Security Advisor. Prior to his appointment, Esteves was in the Federal Government and served as a Training Technician under the National Guard Military Technical Program.
Professional Career
Esteves has over 19 years of military service and has completed 3 combat tours: once in the Horn of Africa and two tours in Afghanistan. He first enlisted in the Guam Army National Guard in 2000 as an Intelligence Analyst and subsequently received his commission in 2007 through the Officer Candidate School program. Throughout his career as an officer, he has served in numerous positions of authority and responsibility to include: Platoon Leader, 1-294th Infantry Regiment; Security Forces Platoon Leader, Provincial Reconstruction Team Farah; Platoon Leader (Mortar Platoon), 1-294 IN Regt; S2 (Intelligence Officer), Combine Security Transition Command/NATO Training Mission-Afghanistan; Assistant Operations Officer, 1-294 IN Regt; Company Commander, A/1-294 IN Regt; and S3 (Operations Officer), 105th Troop Command.
Despite having an extensive military background, Esteves also worked in the private sector for over decade. His job before entering the public sector was as a Quality Control Monitor at DZSP-21, a Government contractor specializing in base operations support and a small business owner in the heavy equipment industry.
Esteves also works as an Adjunct Professor at the University of Guam for the Masters of Public Administration program since 2016.
Education
Esteves has a Bachelor of Business Administration with a concentration in Finance and Economics from the University of Guam. He also holds a Masters of Arts in Intelligence Studies with a concentration in Intelligence Operations from American Military University. Esteves is currently enrolled in Argosy University's Doctorate of Education in Organizational Leadership program is expected to graduate in 2019. His primary military education includes: Basic and Advance Intelligence Course, Infantry Basic Officer Leadership Course, and the Military Intelligence Captain's Career Course.
Awards and Decoration
Esteves' military awards and decorations include: Bronze Star Medal (2nd Award), Joint Service Commendation Medal, Army Commendation Medal, Army Achievement Medal, Navy and Marine Corp Achievement Medal, Army Good Conduct Medal, Army Reserve Component Achievement Medal, Afghanistan Campaign Medal w/3 Campaign Stars, National Defense Service Medal, Global War on Terrorism Expeditionary Medal, Global War on Terrorism Service Medal, Non-Commissioned Officer Professional Development Ribbon, Army Service Ribbon, Overseas Service Ribbon (3rd Award), Army Reserve Component Overseas Training Ribbon (3rd Award), Armed Forces Reserve Medal w/ "M" device, NATO Medal w/ "ISAF" clasp, Guam Commendation Medal, and the Combat Infantryman Badge.
Professional and Civic Organizations
Esteves is a member of the following organizations: Guam Young Professionals, Golden Key International Honour Society; Pi Gamma Mu International Honor Society; Alpha Phi Sigma; National Emergency Management Association; National Guard Association of the United States (Lifetime Member); and the National Guard Association of Guam (Lifetime Member).
Family
Esteves has two daughters: Lana Nicole and Nevaeh Chase.