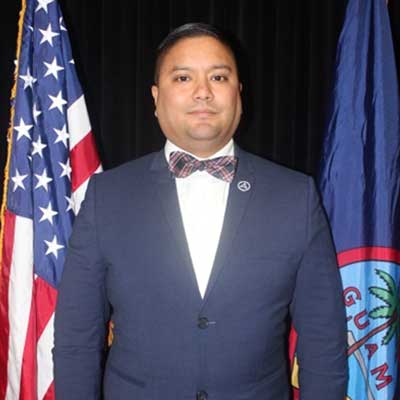 Charles Esteves is currently the Administrator for the Office of Civil Defense and has been working as the island's State Emergency Management Director since 2015. Prior to starting his career with the Government of Guam, he was a Federal employee with the National Guard Technician Program and served in the education and training.
As the Administrator, he is responsible for coordinating the activities of all organizations as it relates to the protection of Guam and its people from disasters, natural and manmade, and during emergency events. In 2019, Esteves was appointed to the Federal Emergency Management Agency (FEMA) National Advisory Council and provides advice to the FEMA Administrator on all aspects of emergency management.
Esteves started his career as a Soldier with the Guam Army National Guard. He enlisted at the age of 17 as an Intelligence Analyst. After completing Officer Candidate School in 2007, he commissioned as an Infantry Officer. During his military career, he has completed three combat tours: one in the Horn of Africa and two tours in Afghanistan. His top awards and decorations include two Bronze Star Medals and the Combat Infantryman Badge. He has over 20 years in service and currently holds the rank of Major.
Since 2016, Esteves has been working as an Adjunct Professor at the University of Guam's School of Business and Public Administration's Masters of Public Administration (MPA) program. During his time with the program, he assisted the Chair with the development of a 1-year MPA program focused on emergency management and domestic operations.
Esteves is a 2001 graduate from Southern High School. He earned his Bachelor of Business Administration with a concentration in Finance and Economics from the University of Guam and subsequently completed his Master of Arts in Intelligence Studies from American Military University. He is currently completing his dissertation and is expected to graduate with his doctorates in business administration by the end of 2020. He is a graduate of the Naval Post Graduate School - Center for Homeland Defense and Security's Executive Leaders Program and Pacific Executive Leader's Program.
Esteves holds the Certified Manager credential from the Institute of Certified Professional Managers and passed the examination for the Certified Emergency Manager credential from the International Association of Emergency Managers.
Esteves is the Region 9 Vice-President for the National Emergency Management Agency. He is also the Vice-President Army for the National Guard Association of Guam where he is a lifetime member and is a lifetime member of the National Guard Association of the United States. He is also a member of the following organizations: Golden Key International Honour Society, Pi Gamma Mu International Honor Society in Social Sciences, Alpha Phi Sigma Criminal Justice Honor Society, Epsilon Pi Phi Honor Society and Guam Young Professionals.
Esteves loves spending time with his daughters Lana and Nevaeh playing video games, watching movies, and singing.